New Zealand's foremost contemporary art museum and global home of the work and legacy of pioneering kiwi artist Len Lye, New Plymouth's Govett-Brewster Art Gallery/Len Lye Centre is delighted to partner with Auckland Art Fair 2021 as the exclusive Museum Partner.
To discover more of Len Lye's remarkable kinetic sculpture and wider artistic vision visit the Govett-Brewster Art Gallery/Len Lye Centre – see below.
The 2021 Auckland Art Fair welcomes Big Blade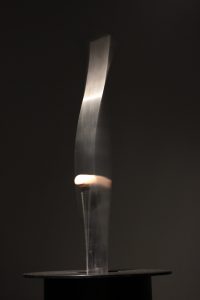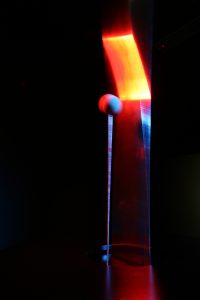 Working with a range of New Plymouth partners, the gallery will showcase Len Lye's commanding major kinetic sculpture Big Blade at the Art Fair, the work's first appearance in Auckland.
Conceived by Len Lye in New York in the late 1950s, Blade is seen as one of Lye's formative kinetic sculptures, inspired by the artist's ability to shake materials like steel and find the natural modes of vibration.
Lye said of the work: 'I see Blade as three evocative sensory moments of past experience which have sunk down into my thighs. That's how Blade shines and quivers when it is doing its stuff – flashing light, shimmering fish and taut quivering horse.'
As a student of movement, Lye choreographed these vibrations and motions, automating performances and making one of the most vibrant and energetic bodies of modern sculpture. It is no wonder that Blade has become one of Lye's seminal works and a firm fan favourite. Big Blade is presented in partnership with Technix.
For your next art adventure, look no further than Taranaki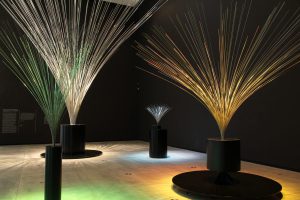 Don't miss Tangibles: 1959-1961 – a chronological overview of Lye's sculptural work – and the compelling Sky Snakes, a new, ceiling mounted kinetic work with its genesis in New York in 1965.
In the adjacent Govett-Brewster Art Gallery, experience the monumental Tai Moana Tai Tangata by artist Brett Graham (Ngāti Kōroki Kahukura), a cautionary tale about human endeavour in Aotearoa New Zealand. Engaging the architecture of warfare on the colonial frontier and the language of war memorials in times of peace, the exhibition commemorates historic relationships and political pacts between Tainui and Taranaki iwi in the face of new challenges wrought by European settlement.
Enjoy these exhibitions with a two-night stay at a luxury hotel in New Plymouth, a personal tour of the exhibitions at the Govett-Brewster Art Gallery/Len Lye Centre, opportunities to experience the wonderful cafes and restaurants, and options for other exciting add-ons such as exploring the Coastal Walkway and Mount Taranaki.
For details on the special Art Adventure package, click here.