Fred Graham 'Kaitiaki' 2022
A new version of  Kaitiaki by Fred Graham will be presented at the entrance to the Art Fair.
The large public commission Kaitiaki, 2004 by Fred Graham in the Auckland Domain, supported by the Edmiston Trust, stands proudly at nearly 12 metres and has become a much admired and loved landmark watching over us. Like the Kāhu, which feature as kaitiaki in the oral histories of Ngāti Whātua.
Fred Graham's manu have always been at the centre of his work, just as they have always been central to life in Aotearoa as the first tangata whenua, and regarded by many as kaitiaki. This year Graham has created a smaller-scale Kaitiaki, at 5.5 metres and in an edition of 3, to coincide with the Aotearoa Art Fair in November.
Graham has worked with the team at Longveld, stainless steel fabricators, where he has another large public work underway for the new Waikato Expressway, along with smaller works in production. Walking into one of Longveld's enormous workshops right now, you could easily be mistaken for thinking it was the dedicated studio of this senior artist, given the current production of his work.
With an artistic career spanning over 65 years, many public commissions and important works in national collections, and time spent travelling and working with artists internationally, Graham is an honoured Kaumatua and recognised artist statesman who has made a tremendous contribution to the arts in New Zealand. Mentoring multiple generations of younger artists, he continues to enrich the lives of all who know him and inspire the many who know his work.
It is a privilege working with Matua Fred and the team at Longveld to facilitate these recent Kaitiaki destined to inspire and guide us into the future.
– Kate Darrow, Curator.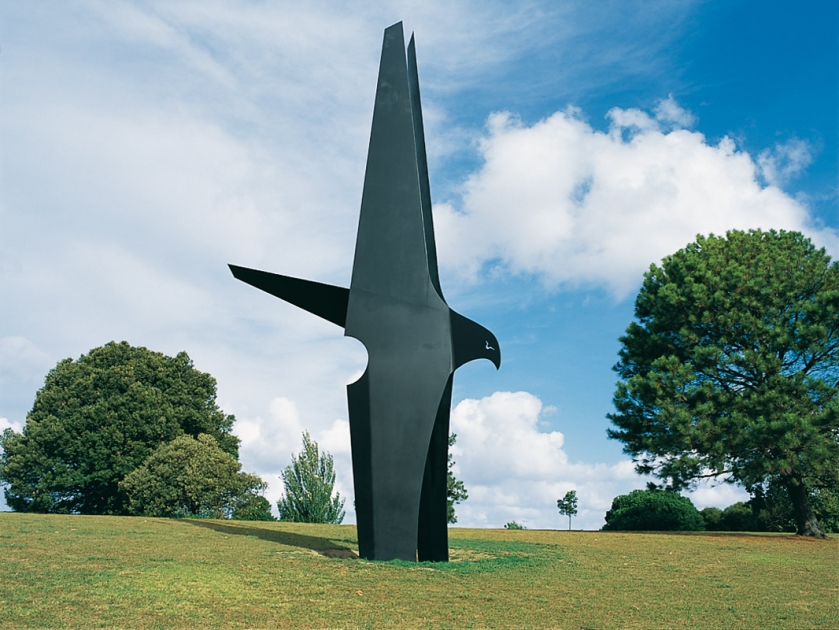 Fred Graham is a New Zealand Icon and is recognised both nationally and internationally, his work is imbued with a transcultural engagement in form and materiality that has been transformative. His inclusion in the Art Fair is momentous for Te Ao Māori, acknowledging the last of the class 66 that included Paratene Matchitt and Cliff Whiting. A fitting celebration of a kaumātua artist 94 years young.
I remember my first encounter with Fred's Te Wehenga o Rangi raua ko Papa (1988), with a kōtuku breaking free from a steel cage of containment in a re-enactment of the feat of Tāne. What was significant was the message that not only endorsed the power and relevance of a Māori oral tradition but also signalled a new direction in Māori art.
– Bob Jahnke. 
Image: Fred Graham, Kaitiaki, 2004, steel plate, 1105 x 5000 x 2000 mm, commissioned by the Edmiston Trust Collection for the Auckland Domain Sculpture Walk, image courtesy of the artist and Edmiston Trust, photo by Gil Hanly courtesy of Urbis Mag.