Ngāti Whātua Ōrakei Sculptures at the Fair
Ngāti Whātua Ōrakei will present the following four sculptural works, curated by Lawrence Makoare, at the 2022 Aotearoa Art Fair. Enquiries about these works and to purchase please contact Lawrence Makoare at raumatitoi@gmail.com with any enquiries.
Tai Meuli 'Crab Claw Sail' 2021
Carved from Serpentine Greenstone and Tākaka Marble  on a Silky Oak base, this work is inspired by the old sail used in many Austronesian cultures due to its extraordinary performance and ease of operation.
Tai Meuli is a full-time stone sculptor who has been sculpting hard stone for over 30 years and won numerous awards and continues regular attendances at many sculpture events around NZ.   His inspiration comes from the importance he places on connecting with nature and valuing and respecting the physical environment. "It is humbling and gratifying to have both young and old men and women of all diverse cultures, shape and redefine stone, wood and Pounamu, captivating it's natural beauty, while allowing the materials to speak."
Image: Tai Meuli, Crab Claw Sail, 2021, Serpentine Greenstone, Tākaka Marble and Silky Oak, image courtesy of the artist and Ngāti Whātua Ōrakei, photography by Leila Mareikura Smith.
Logan Okiwi Shipgood 'Moa Hunter' 2021
Logan Okiwi Shipgood is a sculptor, art director and set designer. In 2015 he opened Penny Haka gallery in Whakarewarewa Rotorua. He works with all available materials including wood, stone, bone, pounamu, bronze, oamaru, hinuwera stone, ice, and polystyrene and spent five years in Italy, working with marble.
Logan was the subject of the 2018 BBC documentary, Hand Made in the Pacific, in which he crafted a beautiful 6ft tall pou from native New Zealand timber and explored the deep spiritual connection between Māori carvers and the objects they create, and the significance of his home – Rotorua – in the revival of Māori art and culture in the 20th century.
Image: Logan Okiwi Shipgood, Moa Hunter, 2021, carved polystyrene, courtesy of Ngāti Whātua Ōrākei and the artist, image by Kytaja Photography by Tania Brown.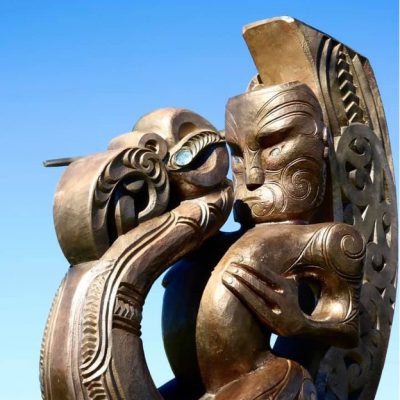 Nathan Hull 'Tuatara' 2021
Born in Cambridge, Aotearoa New Zealand, Nathan Hull started a career in engineering almost 30 years ago.  Through this, he began unconsciously picking up stray washers, nuts etc anywhere and everywhere, starting collection of interesting scrap.  Through these early experiences, Nathan found himself with an ideal range of skills to recycle these discarded parts and developed a full time career of making award winning masterpieces in public and private commissions, nationally and internationally.
With a drive to keep challenging himself and learn new techniques Hull's passion for metal is brought to life through sculptures created from an array of recycled metals, including copper, stainless steel, cutlery, old tools and even machinery parts, drawn together to create these innovative pieces.
Working with plenty of wild inspiration in a secluded piece of land tucked up in the Uruti Valley of rural Taranaki, nature and fantasy themes have regularly presented in his work, mixing a seemingly delicate tone with a feeling of immense strength and stability, where creations effortlessly develop their own individual personalities.
Image: Nathan Hull, Tuatara (in production), 2021, corten steel and copper, courtesy of the artist and Ngāti Whātua Ōrākei. Photo credit RNZ / Robin Martin.
Dave Taylor 'Piwakawaka' 2021
A self-taught artist of Scottish and Māori (Taranaki heritage) descent, Dave Taylor has worked full-time from his studio at the Quarry Art Centre, Whangārei for the last 15 years. Inspired by  nature, Māori iconography and korero (story telling), Taylor's works are highly adorned and engraved with intricate and detailed patterns. He sculpts and engraves predominantly found objects to produce items such as necklace pendants, hair combs, fish hooks and flutes, but also large sculptural works. He works in a range of media, including andesite, pounamu, Oamaru stone, bone, whale teeth, pāua, mother of pearl, and clay.
For Taylor, art has always been a kind of magic, an awakening – mind, body and spirit. "Being an art practitioner has to be the ultimate, as it engages creation and is life-expanding. I see my art as a conduit I use to transfer emotions and stories about history past and present. Balance in life as in art is my ultimate goal."
Image: Dave Taylor, Piwakawaka, 2021, Taranaki Andesite on a Steel Plinth, courtesy of the artist and Ngāti Whātua Ōrākei, photography by Leila Mareikura Smith.