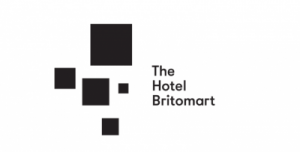 Smart, soulful and contemporary, The Hotel Britomart welcomes guests to the best of downtown waterfront Auckland. New Zealand's first 5 Green Star hotel has beautiful timber-lined, cocoon-like rooms with elegantly tiled bathrooms, built-in sofas and hand-made ceramics. Downstairs, the historic warehouses of the Britomart neighbourhood house some of the country's best restaurants, bars and cafes, while plant-lined pedestrian streets and laneways are full of incredible shopping.
Just a few steps away is Auckland's beautiful waterfront, the ferry terminal and central business district, while the underground Britomart Transport Centre offers easy public transport connections to every part of the city.
The Hotel Britomart is pleased to be a VIP Hotel Partner of Aotearoa Art Fair and to offer guests visiting Auckland for the Art Fair a special rate, accessible by booking here.