Food and Drink
Visitors will have access to a number of pop-up bars and delicious eateries at The Cloud during the Fair. Enjoy coffee from Atomic Coffee Roasters and a selection of drinks from Seresin Estate, Hallertau and Scapegrace Distillery. Our food offerings will be announced soon. Stay tuned!
Sculpture Space
The 2021 Auckland Art Fair will, for the first time ever, include an outdoor Sculpture Space at the Waitematā Harbour end of The Cloud. Take a seat in the sun nestled amongst large scale sculpture works while enjoy a refreshing cocktail from the Scapegrace Gin and Vodka Cocktail Bar and a bite to eat.
Expect sunshine, sculptures, cocktails, boats on the water and a place to soak in Tāmaki Makaurau's exceptional harbour view.
Details of the artists and galleries presenting work in the Sculpture Space will be announced soon.
Images:
1. Jade Parks, The Camper Project 2017, outside The Cloud as part of Projects 2018 curated by Gabriela Salgado and Francis McWhannell.
2. Scapegrace Gin Cocktails
3.  The Cloud for Auckland Art Fair 2019
Opening Night
The Opening Night of Auckland Art Fair is your chance to mingle with collectors, gallery directors, curators and artists over a glass of champagne, while enjoying some of the best contemporary art on show from around the Pacific Rim.
Be among the first to see and buy the art on display with a ticket to Opening Night, and enjoy return visits throughout the General Entry opening hours to attend talks and see the art change over the week.
Art Party
Start your weekend with the perfect mix of culture and creativity at the Auckland Art Fair Art Party on Friday 26 February 2021 from 5pm - 9pm.
Gather your friends for late night access to the Fair combined with live DJ sets, and great food and drink options from pop up bars and eateries.
It's not your usual Friday night in Auckland.
Enjoy food from the Auckland Art Fair cafe, cocktails by our official spirit partner Scapegrace, wine by Seresin Estate, beer from Hallertau Brewery, and more.
Tickets on sale soon! To access Early Bird promo codes and group discounts, subscribe to the Art Fair newsletter.
Talks Programme: If not now, when?
Upstairs on the Mezzanine level of The Cloud, you'll find a programme of curated and moderated talks entitled
If not now, when?
, designed to stimulate public debate in the framework of the Art Fair. Through the course of three days, three different panels will bring together thought provoking questions raised and answered by local and international artists, writers and cultural actors, around the unique position of Aotearoa as a place for contemporary art production.
The 2021 Talks Programme is curated by Cameron Ah-Loo Matamua ( Curator, St PAUL St Gallery, AUT), Remco de Blaaij (Director of Artspace Aotearoa) and Charlotte Huddleston, (Director of ST PAUL St Gallery, AUT) on behalf of Ngātahi (a collaboration between Auckland arts organisations Te Tuhi, St Paul St Gallery, AUT, Te Uru, Objectspace, Gus Fisher Gallery  and Artspace Aotearoa) and is generously supported by Creative New Zealand.
Squiggla Making Space
During the Fair, visit the Squiggla Making Space upstairs on the mezzanine level if you love to play, are curious and want to exercise your creative thinking skills through the power of joyful mark-making. With Squiggla, a programme for all ages which focusses on the playful use of dots, lines and squiggles, everyone can connect with creative visual thinking.
Play – Make – Imagine – Invent – Connect your way to a Creative Squiggla Brain!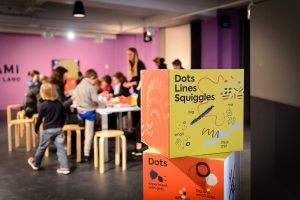 Images:
1.
City Gallery Wellington Squiggla Workshop 2018
2. Squigglawork
3. Artists in Education Collective Squiggla Workshop 2019
School Visits
Experience Auckland Art Fair with your senior school art or design class to see, learn and engage with some of the best art from New Zealand and around the Pacific Rim. The Fair offers special group ticket prices for senior school classes which include a private tour of the Fair. Taking place on Thursday and Friday at the Fair, places are limited and will sell out. Get in touch to plan your school trip to Auckland Art Fair for the next generation of New Zealand artists.
Corporate Hosting
For hosting your clients or employees at Auckland Art Fair we have a number of options, including special events and catering, available on each of the different days. Please
get in touch
to find out more about what we can do for you.
Bookshop
The Auckland Art Fair bookshop will feature a selection of the best art books and periodicals from independent and major publishers, both international and Aotearoa-based.
Facilitated by writer and curator Victoria McAdam, the store will include publications on art, photography, architecture, design, and art theory, as well as a selection of political and counterculture texts.
Previous iterations of the AAF bookshop have offered titles from Remote Photobooks, Auckland Art Gallery Toi o Tāmaki, Ron Sang Publications, City Gallery Wellington, Adam Art Gallery, The Dowse Art Museum, Artspace, ST PAUL St Publishing, Te Uru, Te Tuhi and all of Aotearoa's major University Press', alongside a curated selection of international titles sourced from Melbourne's Perimeter Books and Verso - the largest independent, radical publishing house in the English-speaking world.
Visit the bookshop upstairs on the Mezzanine level of The Cloud at the Fair to purchase some of the best art books on the market.
Artist Talks
Don't miss the chance to hear your favourite artists in conversation on gallery stands in our popular Artist Talks series, presented daily at the Fair. Talks are free to attend for all ticket holders.

More details, including the names of the artists and the times of their talks, will be announced before the Fair.
The Ngātahi Chance Meeting Club
Inspired by the Fluxus movement and the mantra of a 'do-it-yourself' attitude to creative activity, Ngātahi welcomes you into an unfolding framework of collective ingenuity where chance, humour and democratic agency are let loose through a programme of specially designed 'chance' encounters. Featuring special guests, craft club, board games and cocktails, and introducing the Judy Millar book collection, featuring 100 books suggested by artists and creatives from around the globe, Ngātahi's contribution to Auckland Art Fair is a booth of encounters, collaborations, critical dialogue and, most of all, unreserved and uncompromising fun. More details to follow soon.

Ngātahi is a collaboration of Auckland arts organisations Te Tuhi, ST PAUL St Gallery, AUT, Te Uru, Objectspace, Gus Fisher Gallery and Artspace Aotearoa.
Ngātahi Guided Tours
Sign up for guided tours of the Fair led by Curators and Directors from 
Ngātahi, a collaboration of Auckland arts organisations Te Tuhi, ST PAUL St Gallery, AUT, Te Uru, Objectspace, Gus Fisher Gallery and Artspace Aotearoa.
Tours will take place at the following times, in exchange for $5 koha for Ngātahi.
Thursday 25 Feb
2pm
Friday 26 Feb
2pm
Saturday 27 Feb
11am and 2:30pm
Sunday 28 Feb
11:30am and 2:30pm
Bookings for tours will be available when you purchase a ticket to Auckland Art Fair online.  Tickets on sale soon.
My Art
In the lead-up to the Auckland Art Fair My Art will be asking artists, gallerists, and collectors for their insight on the creative process, exhibition making, and the practice of collecting. Follow us on instagram @myart.nz and come and see our team at the Auckland Art Fair to find out more. We can process applications and approvals at our stand,
 or online ahead of the fair,
so you can go shopping with confidence.