In 2023, we were delighted to welcome a selection of galleries from Aotearoa, Australia and Asia to present at the Fair for the very first time, including presentations from newcomers; Broker (Tāhuna Queenstown), ONE AND J. (Seoul, Korea); N. Smith, (Sydney, Australia) NASHA (Sydney, Australia), NAP Contemporary (Mildura, Australia). LAILA (Sydney, Australia),  Season (Tāmaki Makaurau Auckland), Savage Garden (Melbourne, Australia) and Vunilagi Vou (Tāmaki Makaurau Auckland).
Robert Jahnke's, Te Tomokanga o te ua, 2019, was exhibited at the front entrance of The Cloud at the Aotearoa Art Fair 2023. Featuring reflected stacked fluorescent tubes referencing the customary Māori pattern, roimata toroa (tears of the albatross), as a lament for humanity's mistreatment of the environment. Hone Tūwhare's poem Making holes in the silence cloaks the walls of the portal inviting people to recite his words of sensual engagement with rain. Rain in Te Ao Māori are the tears of lamentation of the sky father for the earth mother.
Te Tomokanga o te ua was created as an entranceway for the Lamentation exhibition at the Hastings City Art Gallery.
Sunshine, sculptures, cocktails, boats on the water and a place to soak in Tāmaki Makaurau's exceptional harbour view. The 2023 Fair featured an Outdoor Sculpture Space presented in partnership with Audi NZ, showcasing the highly anticipated Audi Q4 e-tron.
A number of pop-up bars and delicious eateries were offered at The Cloud during the Fair.
What is art's value?
Friday 3 March
2-3pm
Christina Barton in conversation with John Gow, Natalie Tozer and Raukura Turei
We are living in a moment when the market seems to rule. But is art worth only the money we are prepared to pay for it? How do we define art's value? Who decides and with what criteria? What other measures should we apply when thinking about why art matters? These and other questions are posed to artists and art professionals occupying different niches in the art system. With gallerist, John Gow; artist and founder of mothermother, Natalie Tozer; and artist, Raukura Turei.
What can collecting do?
Saturday 4 March
2-3pm
Christina Barton in conversation with Hamish Coney, Dan du Bern and Zac Langdon-Pole
Collecting is a human trait, an individual activity that helps us define who we are: our interests, tastes, and social place. But how does the activity and its end products contribute to culture at large? As prices rise and budgets shrink, how well are public institutions coping with their collecting responsibilities? How has the activity of collecting changed over time? These and other questions are addressed by both the agents and beneficiaries of collecting. With art consultant, curator and writer Hamish Coney; gallerist Dan du Bern; and artist, Zac Langdon-Pole.
Where is art heading?
Sunday 5 March
2-3pm
Christina Barton in conversation with Judy Millar, Ryan Moore, Shiraz Sadikeen and Reuben Friend
How is art adapting to the changes, pressures, possibilities and challenges we are facing as individuals, as a society, a nation, and as global citizens and consumers? What lies ahead for the art world? Christina Barton invites a range of art world insiders to crystal-ball gaze about art's future. With artist, Judy Millar; gallerist, Ryan Moore; artist, Shiraz Sadikeen; and artist, curator and co-founder of ART LDGR, Reuben Friend.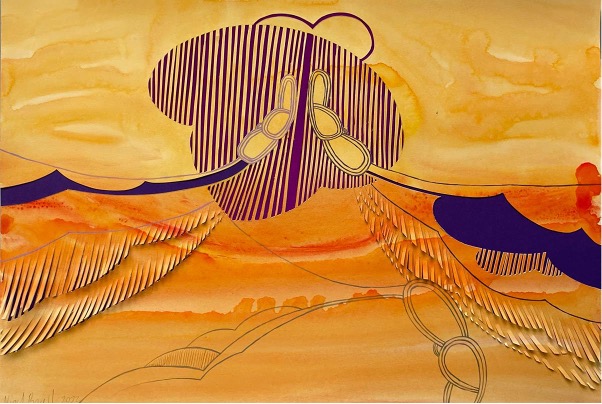 Our friends at Atomic Coffee Roasters  generously commissioned a limited edition run of coffee cups featuring an artwork by Nigel Borell for Vunilagi Vou.
"The work is called New Day Clouds and represents the artist's fascination with clouds, sunsets and what lives in those spaces. For Māori, clouds are a metaphor for ancestors, and for the artist, so are birds. Two manu (bird) motifs are visible in this work reflecting the brief of a meeting of art and food / beverages. The work is part of a new body of work Nigel has produced for Vunilagi Vou at AAF; his 2023 works are full-bodied and very sexy!" – Ema Tavola, Vunilagi Vou.
The Art Bookshop was hosted by Iffy Is at the 2023 Aotearoa Art Fair. THe bookshop offered publications by over 40 publishers from all corners of Aotearoa New Zealand.
Artists talks were presented on gallery stands daily at the Fair.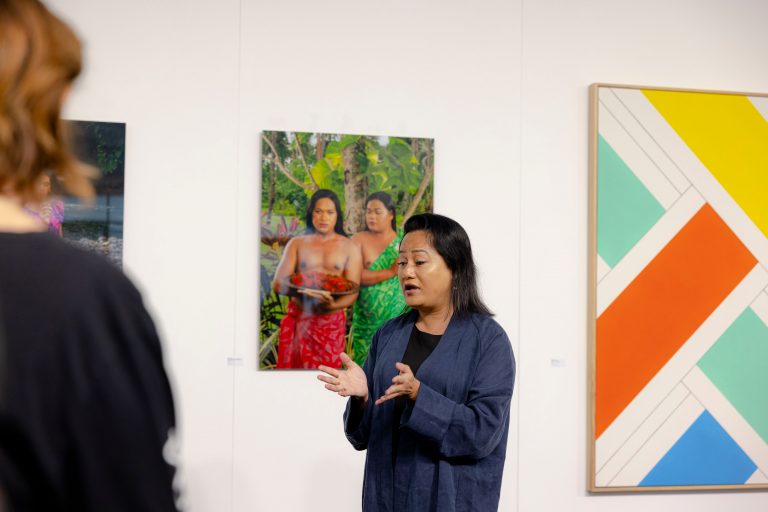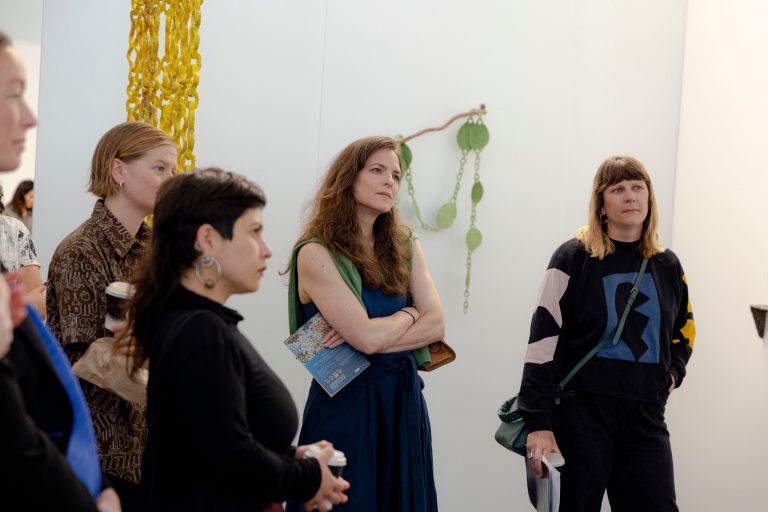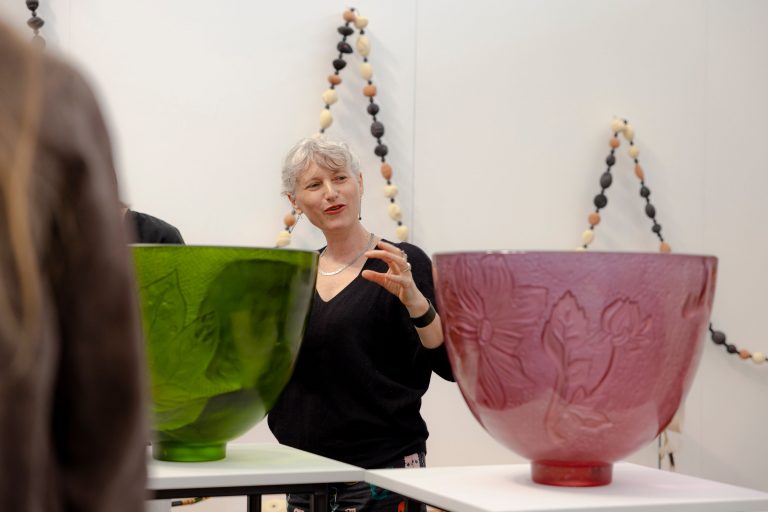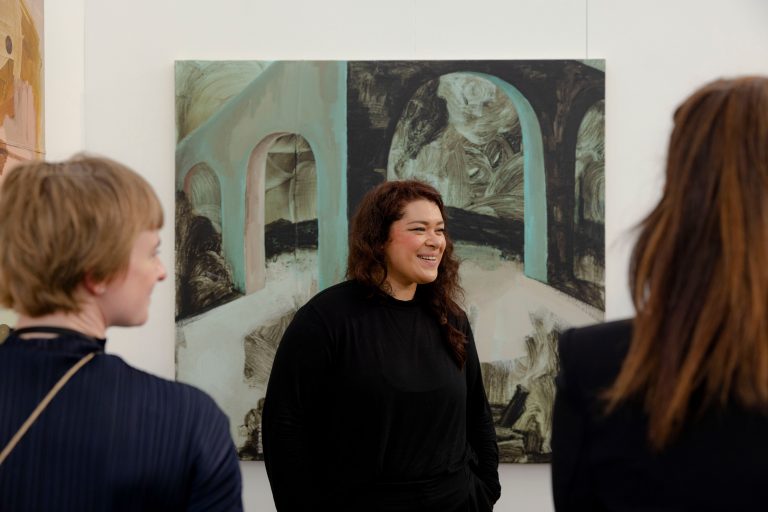 A whimsical installation of stacked, twisted, plaited, stretched and perforated clay works was presented at The Dowse x Ngātahi booth at the Fair. Artist Janna van Hasselt presented a family of forms that push at the edges of how we think about ceramics.
The Dowse Art Museum has been invited by Ngātahi, a collaboration of Tāmaki Makaurau Auckland arts organisations Artspace Aotearoa, Gus Fisher Gallery, Objectspace, Te Tuhi, Te Uru Waitakere Contemporary Gallery and McCahon House, to do a takeover of their booth which has been gifted as part of our non-profit initiative inviting public galleries to take space at the Art Fair.
The Squiggla Making Space at the 2023 Aotearoa Art Fair provided a hands on mark making programme open to everyone keen to experience the focussed, playful joy of composing and inventing with dots, lines and squiggles right on the page.